Global Sewing Machine GSM-505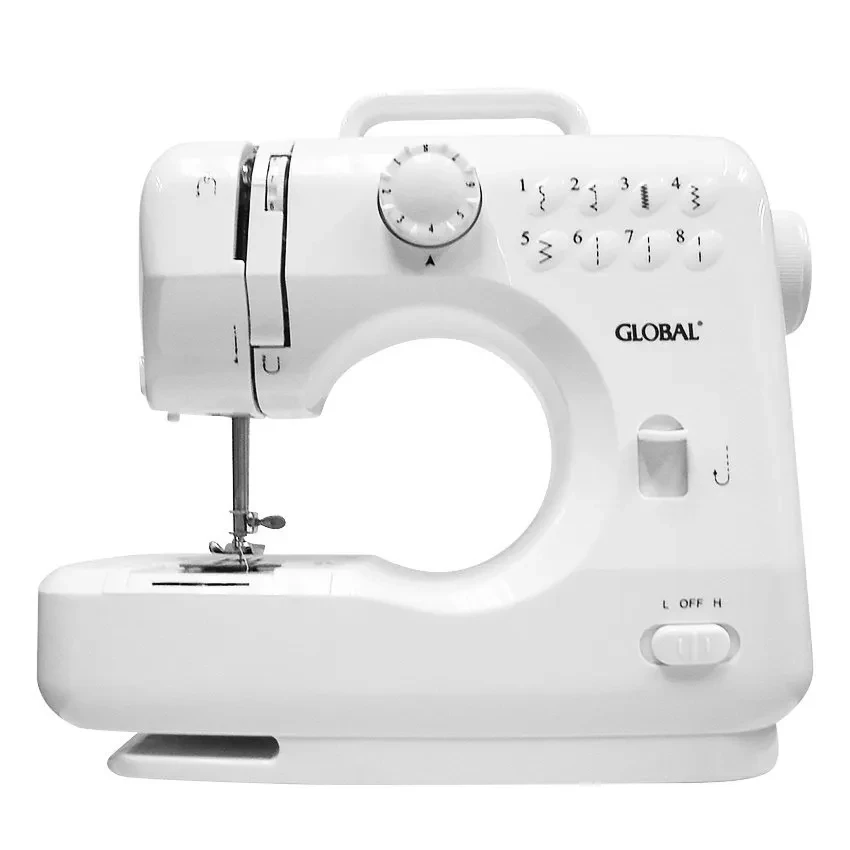 Why head to the tailor when you can sew it yourself? If sewing has always been an interest or your passion and you always seek out the best of household appliances for your home to create beautiful curtains, elegant cushion covers, or simply fashionable garments, then Global Sewing Machine GSM-505 is the right sewing machine for you! No more sewing clothes with another run-of-the-mill sewing machine thanks to this innovative creation by none other than Global.
The Global Sewing Machine GSM-505 is a great sewing machine for you, either to sew all your basics. With its 8 built-in stitch patterns, you can get creative and produce something innovative according to your liking. The Global Sewing Machine GSM-505 has the double thread sewing feature. This means that not only are sewing twice as fast as compared to using just a single thread needle, it also means that your sewing products will have a stronger hold and are more intact making all your sewed products long-lasting.
The Global Sewing Machine GSM-505 is super convenient to use as well as you are able to forward or reverse sewing. It has automatic thread rewind feature to ensure that you can reverse back to your stitching errors and not worry because the thread will not get stuck while you are in the middle of your sewing session. This proves to be a practical feature in which it can also assist you to sew sleeves in an easier manner, which is usually the most challenging part of sewing a garment. Besides that there is also a feature to adjust the stitch width of the sewing machine giving you the option depending on the item being sewn.
Hand Switch or Foot Pedal
Using the DC 6V power, the Global Sewing Machine GSM-505 can easily be started by using either the hand switch or the foot pedal. So if you are used to the older ways of the older version of sewing machines, then the foot pedal is ideal for you. Whichever one that floats your boat, the options were created for you to be able to select your personal preference as well as to suit your comfort.
A drawer is also included with this machine to store all your threads and small items of sewing. You can obtain it within your reach while you work on your sewing machine. This sewing machine includes a thread cutter so you could trim of the thread when you're done sewing or simply rid of excess thread on your garments. The sewing machine also has a built-in long-lasting LED sewing light. Last but not least, every tailor or seamstress knows the tediousness of winding bobbins. Lucky for you, the Global Sewing Machine GSM-505 rewinds bobbins! So don't hesitate and get this worth buying sewing machine now!
Specifications of Global Sewing Machine GSM-505
What's in the box:
1 x Global Sewing Machine GSM-505

1 x Adapter

1 x Pedal

3 x Roll of yarn

2 x Needle

1 x User manual

1 x Warranty Card
General Features:
SKU
GL043ELAJ4G4ANMY-438334
Gender
Unisex
Size (L x W x H)
31.1L x 14.7W x 29.5H cm
Weight
2.5kg
Uses & Properties
Double thread, double speed
Featuring 8 built-in stitch patterns
Forward and reverse sewing
Automatic thread rewind -Sews sleeves
Use hand switch or foot pedal to start
Built-in sewing light
Includes thread cutter
Long-lasting
Voltage
6V
Warranty Period
1 Year
Warranty Type
Local Manufacturer Warranty




More Details : Global Sewing Machine